How to protect your rental property in Montgomery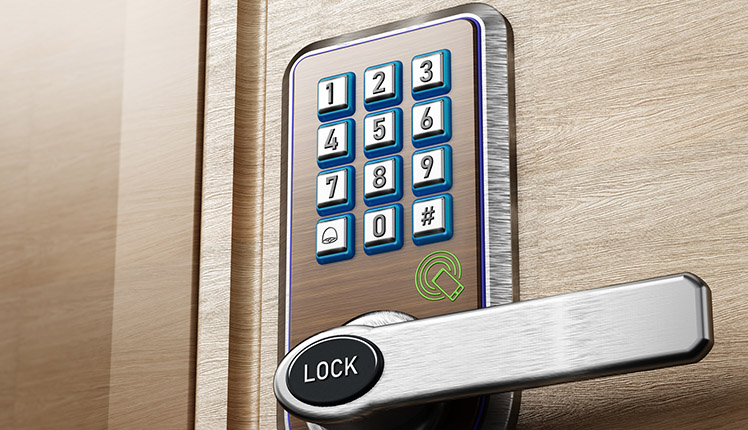 Irregardless of whether you lease out your family's cottage or you own a diverse portfolio of Airbnbs, it's often difficult to protect your rental properties in Montgomery. With physical keys passing through multiple occupants, it's normal to worry about vanishing valuables or former guests showing up unexpectantly. Not to mention, what would you do if there's a flood or fire at the property while it's being leased?
From smart locks to comprehensive security with home automation, here are some helpful tips on how to protect your Airbnb in Montgomery.
Ditch keys with your Montgomery smart door locks
When a guest vacates the premises, they may leave the keys behind for the ensuing occupant. However, if someone took or made a copy of a key, it would be possible to sneak back in at a later time. Of course, you have the option to replace your locks if a key is "misplaced", but that creates delays and cuts into your revenue.
You'll want to install smart locks that operate alongside your home's security to put these concerns at ease. You will then issue each renter their own unique entry code. When your occupants leave, don't worry about an exchange of keys. All you need to do is customize the door code to no longer work after they're gone. If previous occupants return and attempt to use their prior entry code on the keypad, you will be alerted with a notification of the failed attempt on your smartphone.
Smart home technology makes empty properties appear occupied at all times
The goal is that your Montgomery rental property will have guests, but that won't always be possible. Nevertheless, you should strive to make it appear that people are present so your Airbnb isn't an easy mark for thieves. Incorporating a security system with home automation affords you the opportunity to use smart lighting, motion sensors, and surveillance systems that make your lodging look lived-in.
You can put your plan in motion by setting some lights to come on at particular times of the day. Then, use your security smartphone app to alert you if your cameras detect an intruder prowling around your perimeter or approaching your primary entry. You have the opportunity to employ the 2-way talk feature to make them know they're being watched or set your lights to automatically illuminate when a camera or motion detection equipment identifies something unusual.
Protect your Montgomery rental property with 24/7 monitoring
Your renters will be more relaxed if they are safeguarded against burglars, specifically when Montgomery is unfamiliar territory. When a robber attempts to break in, your security system will not only initiate the alarm siren but will also notify your 24-hour monitoring professionals. Even if you're not available, assistance will be forthcoming. Your monitoring experts can even act as your point person and loop you in when you're available.
In addition to break-ins, your monitoring center can be connected with fire alarms, flood detectors, and carbon monoxide sensors. It would be understandably distressing for your renter if a pipe bursts or a fire erupts. Not only will you receive a phone update that an urgent situation has happened, but a representative will also authorize help from emergency personnel while you're in transit.
Request your new home security system in Montgomery
The first step in protecting your Montgomery rental property is to invest in the latest in home protection. Thankfully, Vivint provides options like smart lights, smart door locks, and 24-hour monitoring. Reach out today and our security specialists will help you customize a package that's perfect for your property. Dial (334) 378-2456 or submit the form today!
Areas Served Around Montgomery By Smart Security Specialists Your Local Vivint Authorized Dealer